Prior to becoming a Massage Therapist in 2005, my experience in the business world has always been in the service industry. I founded and was lead instructor for "Rose Hill I Can Do School of Gymnastics, Dance and Fitness". In that business I taught gymnastics, ballet, and aerobic exercise classes.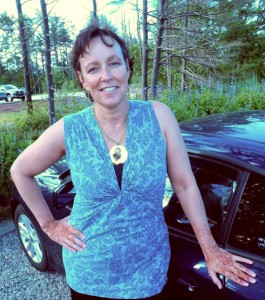 My education as a Fine Arts Major with focus on Dance performance at Wichita State University-Kansas, gave me the training to create that exciting business that changed the landscape of the small town Rose Hill, Kansas.
I am forever, grateful to my amazing teachers. The foundation I achieved from them is solid. My understanding, thus far, of the human body, its' movements, and the emotional energy connected to how and why me move the way we do, is forever expanding that foundation. It translates into an understanding of what I feel with my hands when I give a massage and to the "homework" I can provide to clients like stretching.
Since Graduation from The New Hampshire Institute of Therapeutic Arts–Bridgeton Maine, I have continued my education with Thai Yoga Bodywork with Jonas Westring, and Reiki training, through the "Master Teacher" level, with Rachel Pellitiere. My introduction to Young Living Essential Oils was through Center for Aromatherapy Research and Education (CARE) with Dr. David Stewart, where I learned how to do the Raindrop Treatment. Continued mentoring in the use of Essential oils was with Deborah Carlton Penny where I learned the Egyptian Emotional Clearing.
My recent continuing education practice is with "Total Body Modification" or TBM.
I am just beginning this process but you can find out more about TBM by going to totalbodymodification.com