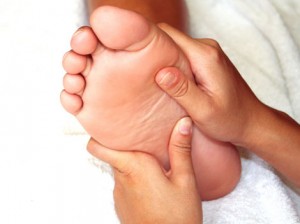 The ancient art of Reflexology is as old as time. There are hieroglyphics indicating that one person would sit behind another placing their foot on the lap of the front person to receive "reflexology". Artifacts from the Chinese, Japanese, Indian, Russian, and Egyptians shows evidence of working on the feet to promote health.
The idea is that the body is reflected in the feet. A few of the relationship are the head being reflected in the big toes, the shoulder is reflected in the pad of the little toes, and the spine is reflected along the inside arch of each foot. The organs are then traced on the bottom of the feet as if it were the imprint of the entire body on the bottom of the feet. Organs that are singular and on one side of the body like the liver, spleen, gallbladder are on that respective foot.
A Reflexology treatment has a unique way of being relaxing beyond sleeping. People have commented that they "went somewhere" during the treatment. They did not feel like they were asleep but feel totally revitalized like a good nights rest. People that have ticklish feet can relax and receive a great treatment.
When I was about 10 years old I got a book by Dr. William Fitzgerald called Zone Therapy. I applied some of the techniques to my own body to help relieve my headaches that were preventing me from being able to play outside with my friends. When I was in massage school learning Reflexology, I realized that I was receiving the missing pieces to my fragmented knowledge I learned as a child. My joy in learning reflexology was palpable. I knew this was another amazing technique to add to my natural healing methods.
In the 1930's Eunice Ingham used the zone therapy model as she worked with her patients in her physical therapy practice. The feet became the most obvious and effective way of accessing the areas of the body she wished work on. Pain reduction seemed to be the prevalent outcome of her work…Reflexology was born.
The treatment can be applied light or deep depending on the situation of the client.
Usually a gentle touch is applied to the feet that bring about profound balance. Listed below are some of the benefits that might be achieved by receiving a reflexology session: *Detoxification
*Stress Reduction
*Revitalizes Energy
*Improved Circulation
Do yourself a huge favor and schedule a reflexology session to see what it will uncover for you.
Pricing
30 minutes- $50
60 minutes- $90
75 minutes- $105
90 minutes- $120
120 minutes- $150